Shooting Sports is becoming increasingly popular, and for all ages. TVT is working with local, regional and national Shooting Sports organizations and has provided several of our Commercial Target products.  
TVT continues to work with Shooting Sports organizations at the local, regional and/or national levels. TVT has expanded its spectrum of TARGET products to include recreational shooting, via direct sell and online retailers.
Recently, TVT has introduced NEW PRODUCTS that have several applications in this growing market and have sparked interest in commercial markets.  These include:
(1) Tarbot – this is a Live Fire Paper Target System that allows shooters to increase trigger time, gain shooting accuracy and offers added safety as shooters do not have to go downrange to advance targets. They can stand a distance from 200 – 1,000 yards away and can avoid the added time, save steps and eliminate the wait with Tarbot. If you are currently shooting at paper targets, Tarbot is a nice, affordable option for you to consider – plus, it is a LOT of fun!!
The Tarbot is ideal for Shooting Sports organizations, individual shooters and/or anyone who enjoys shooting Live Fire. More information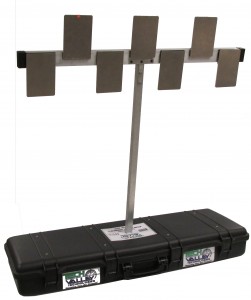 (2) Airsoft Portable Range Kit – Airsoft enthusiasts can simply set up a range anywhere that is safe, either in their backyard or basement, and can enjoy the popular game of Airsoft with this kit, which is easily transportable in its own gun case. Each target has a LED light that triggers and offers a visual cue when hit. Targets reset automatically, so there is no need to go downrange and shooters can continue, increasing their trigger time.
The Airsoft Portable Range kit is ideal for recreational shooters, for sniper qualification,  and/or anyone who enjoys Airsoft.

FEATURED PRODUCTS
TRAIN BETTER TODAY!
Contact us today to learn more about our advanced solutions for today's complex target training needs.